Products & Services to meet your life goals
Loan Interest Certificate for PIT
To obtain the Loan Interest Certificate for PIT, please CLICK on the button below
ATM Location, Thimphu
To check the ATM Locations in Thimphu, please CLICK on the button below
BoBConnect Location, Thimphu
To check the BoBConnect Locations in Thimphu, please CLICK on the button below
Current Rate of Exchange
Note: Kindly note that the rates are only for 2nd Dec 2023 to 4th Dec 2023

| | | TT | | Notes | |
| --- | --- | --- | --- | --- | --- |
| Currency | 10% Incentive Scheme (T&C) CLICK HERE | Buy | Sell | Buy | Sell |
| USD 50 and above | 91.399 | 83.09 | 83.67 | 82.05 | 84.6 |
| USD (5,10 & 20) | | | | 79.59 | |
| USD (1 & 2) | | | | 77.95 | |
| Pound Sterling | 115.786 | 105.26 | 105.96 | 103.85 | 106.7 |
| Euro | 99.616 | 90.56 | 91.15 | 89.35 | 91.8 |
| Japanese Yen(100) | 61.798 | 56.18 | 56.58 | 55.45 | 57 |
| Swiss Franc | 104.588 | 95.08 | 95.78 | 93.8 | 96.45 |
| Hong Kong Dollar | 11.704 | 10.64 | 10.71 | 10.5 | 10.8 |
| Canadian Dollar | 67.584 | 61.44 | 61.87 | 60.6 | 62.3 |
| Australian Dollar | 60.599 | 55.09 | 55.46 | 54.35 | 55.85 |
| Singapore Dollar | 68.431 | 62.21 | 62.65 | 61.4 | 63.1 |
| Danish Kroner | 13.354 | 12.14 | 12.23 | 12 | 12.3 |
| Swedish Kroner | 8.756 | 7.96 | 8.02 | 7.85 | 8.05 |
| Norwegian Kroner | 8.503 | 7.73 | 7.79 | 7.65 | 7.85 |
Your one stop Blog
Get financial information, tips & insights here
Sep 19th, 2023
I am a 22 years old entrepreneur and a farmer. I spend most of my time making oil, and...
Sep 4th, 2023
Comprehensive guide for registration process and procedures of Bhutan TradeFin Net (BTFN) System
Jul 11th, 2023
Scam awareness is crucial for customers to protect themselves from fraud and financial loss. Here are some important tips...
Announcements
Stay updated with our latest updates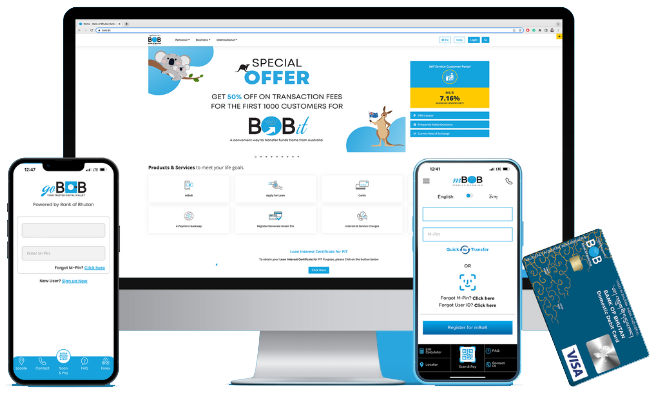 EXTENDING FACILITIES TO SERVE YOU WITH NO BANK VISITS!
ATM | mBoB | goBoB | Internet Banking | Cards | BoBConnect | BoBit
ISO 9001:2015 | ISO 27001:2013 | PCI DSS Certified